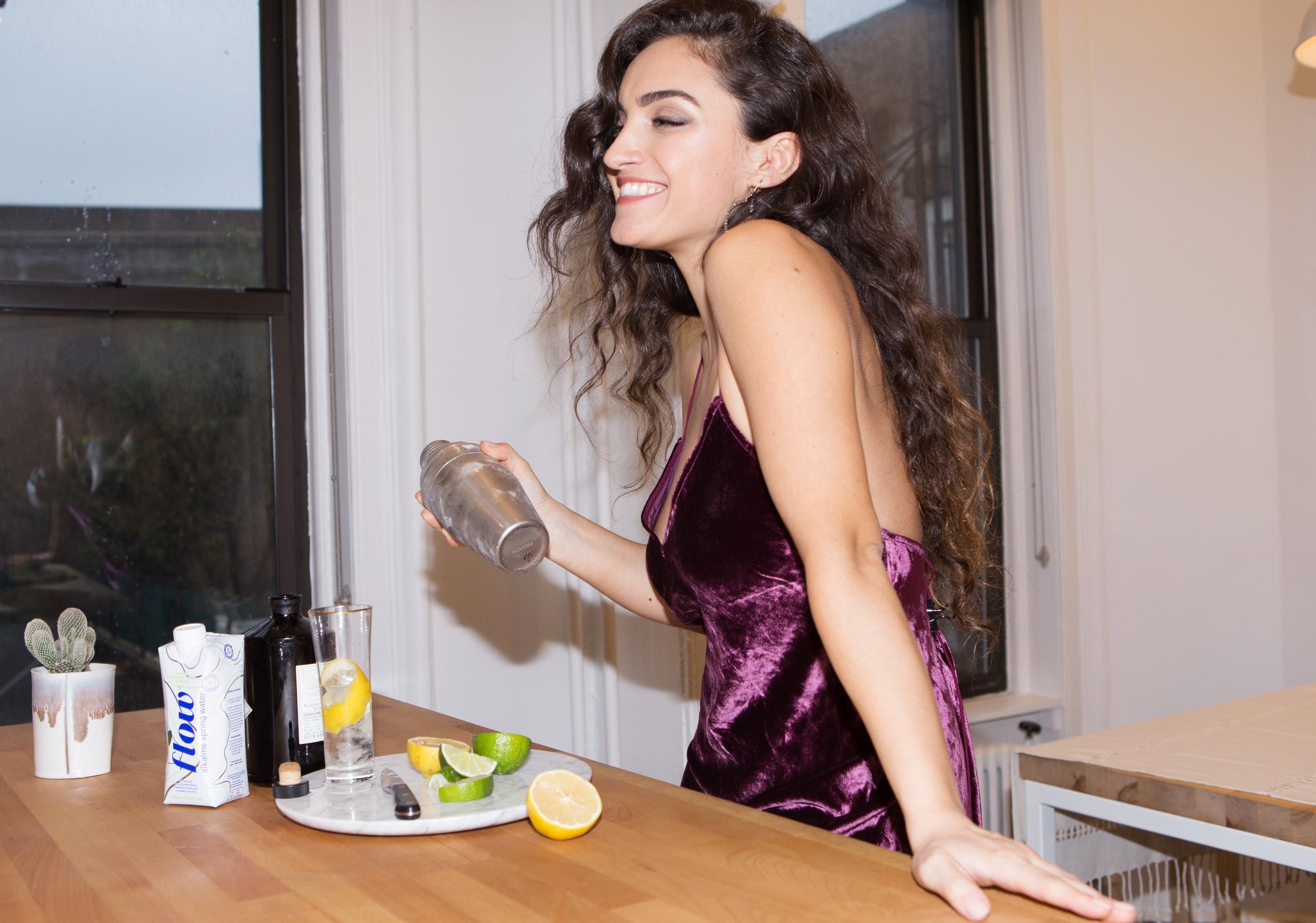 · By Flow Admin
3 High-Vibe Cocktails for a Healthier Buzz
No need to ditch a year's worth of healthy habits for a handful of overly-indulgent holiday parties. Instead, try swapping those overly sweet mixed drinks for something as sophisticated as these fresh superfood cocktails.
Strawberry Ginger Smash
Ingredients: 
1/4 cup smashed strawberries (recipe below)

2 to 3 shakes of your favorite bitter

2 ounces bourbon

3 ounces ginger ale or ginger beer

2 ounces

 

strawberry + rose Flow

fresh mint for garnish

Ice
smashed strawberries
1-pint organic strawberries, chopped

1 tablespoon raw cane sugar

1 teaspoon chopped fresh organic mint

1/2 teaspoon freshly grated organic ginger
Instructions: 
Place the strawberries in a bowl and toss them with the sugar, fresh mint, and fresh ginger. Let sit at room temperature for 10 minutes. Add the bourbon and smash the strawberries with a fork or potato masher. Let sit for another 10 minutes before using. These strawberries can be used for 4 to 6 drinks. Keep them sealed in the fridge for a few days!

Add the strawberries to the bottom of a chilled glass and mash a bit with the bitters. Add ice on top of the berries. Pour the bourbon over the ice and top it off with ginger ale (for a milder drink) or ginger beer (for a spicier drink). Garnish with fresh mint and serve!
Blueberry Margarita
Ingredients: 
2 cups fresh organic blueberries

3 ounces freshly-squeezed organic lime juice

5 ounces Blanco/silver tequila

2 ounces Grand Marnier or Cointreau (or any orange liqueur)

Ice cubes made from original

 

Flow Alkaline Spring Water

optional: lime wedge and salt for rimming the glass
Instructions: 
Add blueberries and lime juice together blender, and pulse until smooth.  (Or alternately, you can muddle the blueberries and lime juice together in a jar until pureed.)  Strain out the juice through a fine-mesh strainer into a cocktail shaker, discarding the berry pulp.

Add the tequila and Cointreau to the cocktail shaker, and stir to combine.

If you would like salt-rimmed glasses, begin by running a lime wedge (the juicy part) around the top rims of your glasses.  Fill a shallow bowl with salt, and dip the rims in the salt until they are covered with your desired amount of salt. (Or you can skip this step and use regular glasses that are not salt-rimmed.)

Fill the glasses with Flow ice cubes, pour in the blueberry margarita mixture + serve immediately.
… and one yummy mocktail for good measure.
Ginger Moscow Mule Mocktail
Ingredients: 
3 ounces 

lemon + ginger Flow 

2 teaspoons organic ginger (peeled and grated)

1/2 tablespoon raw cane sugar

3 basil leaves

1 1/2 ounce freshly squeezed organic orange juice

1 1/2 ounce fresh organic lime juice

1/2 cup soda water

lime and/or orange wedges for garnish
Instructions: 
In a mug or cup, add sugar, ginger, and basil and gently muddle for a few seconds until basil becomes fragrant (until you can smell it).

Add lemon + ginger Flow and stir well until sugar has completely dissolved.

Add orange juice, lime juice and a few ice cubes (3 or 4 big cubes) and stir.

Add soda water and give it a quick stir.

Serve this Moscow mule mocktail recipe garnished with lime and orange wedges.
Happy Hydrating! xx